Findy by Foxsmart helps you to find your glasses within seconds. The Findy glasses finder App works with Android and IOS
Easily traceable: Longest range on the Market (up to 100 feet) through Bluetooth 5.0 standard
Always audible: Loudest buzzer alarm among Bluetooth trackers (90db)
Best usability: Extremely easy-to-use Smartphone App with only one active screen and large icons that can be seen without glasses
Track worldwide: Last known location function shows you the location of your glasses on Google Maps when left outside the Bluetooth range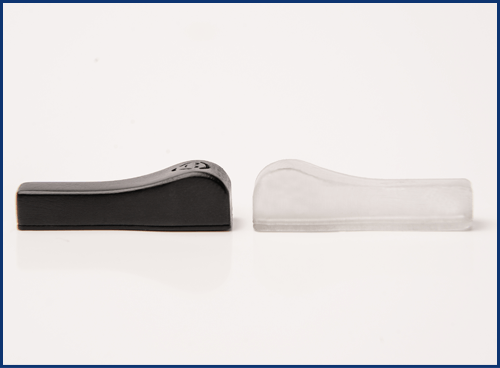 aValue for your money: One tracker to find them all: Each Findy by Foxsmart packaging contains a free adaptor to fit the Findy locator to any other item you want to track (keys, bags, etc)
Invisible on your frame : Available in black or transparent to perfectly disappear on your frame
How Findy can help
you save time and energy by tracking your eyeglasses?
When the battery level of your FINDY device goes below 10 % your FINDY App will prompt you to recharge your battery and FINDY is recharged with a standard USB charger cable, which is included.
Findy – the glasses finder
Unpacking
Each FINDY comes with a free adaptor. The Findy adaptor enables you to turn FINDY into a locator for
any other item that you just can't afford to lose or misplace.
1 FINDY Device with Bluetooth Smart technology, includes:
1 rechargeable battery
1 electric buzzer unit
1 Smartphone App to find glasses that fit for all Android and IOS devices, unlimited user license
3x3M super strong double sided adhesive stripes, pre-cut to fit the FINDY shape
Free FINDY adaptor to turn it into a tracker for keys, bags or anything else that you often lose or misplace
Counting how many times Findy has helped someone on the planet to find lost glasses.
I have lost subscription sunglasses twice this year. Each pair was over $400! The Findy Eyeglass Tracker finally solved my problem. I had it attached with the adhesive tape within seconds to my new pair. Thanks for inventing this!
Mark S.
My energetic 7 year old wears glasses and spends his days exploring our farm with his younger brothers. At least twice a week he returned without his glasses and the hunt began. Questions like 'where did you leave your glasses?' did not rank high on his priority list. We used to replace glasses at least every 4-5 months. The Findy device was a god send and we are very happy to have it. Thank you so much!
Erin A.
My husband lost his reading glasses in, sometimes, unbelievable places. Finding them often took hours. The Findy eyewear tracker for Eyewear was the perfect present for him. The Findy Smartphone App is designed in a logical way. However, If you don't get a connection at home, you know that the glasses are somewhere outside the house and in that case the last location function gives the exact address of where he has left his glasses behind. We are now using another Findy tracker for my keys and now he can find my glasses es easily.
Erika F.
This is such a great and simple product. My 79 year old Mom suffers from Dementia and misplaces her glasses at least once per day. I just couldn't take the constant searching for her glasses anymore so I have the Findy App set up in my iPad and it works great around the house and garden. The only thing I need to do now to find my Mom's eyeglasses is to hit the green button of the App to sound the alarm on her glasses. Simply clever!
Jennifer A.
I looked so many years for such a device to become available.
I have a Findy eyeglasses tracker attached to the end of my frame temple, behind my ear and nobody ever noticed it's there.
I don't have to waste anymore time to find my glasses around the house. The App is very easy to use and I have my Eyewear located within seconds. Would highly recommend this for anyone who has lost Eyewear in the past.
Kathie B.